ABOUT GORILLA TREKKING
Mountain Gorillas are high altitude species surviving in the Virunga Chain (which is shared amongst Uganda, Rwanda and Democratic Republic of Congo) and in the southern part of the Albertine Rift Valley in Bwindi Impenetrable national park and their population is less than 2000 individuals. By far, one of the most amazing creatures that most travelers would love to encounter are the mountain gorillas found in the Virunga ranges in Congo's Virunga National park, Rwanda's Volcanoes National park and Uganda's Mgahinga gorilla and Bwindi Impenetrable national parks in the Kigezi highlands.
Due, to their adaptation to high altitudes, mountain gorillas can't survive in zoos or in captivity so to have a peek, you will definitely have to trek into any of the mentioned rainforests. Everyday travelers venture into these forest for gorilla trekking to experience the one of life's greatest moments and that is having 60 minutes sitting in the cold lounge of a mountain gorilla family deep in the dense forests as they observe these gentle primates as they go about their day.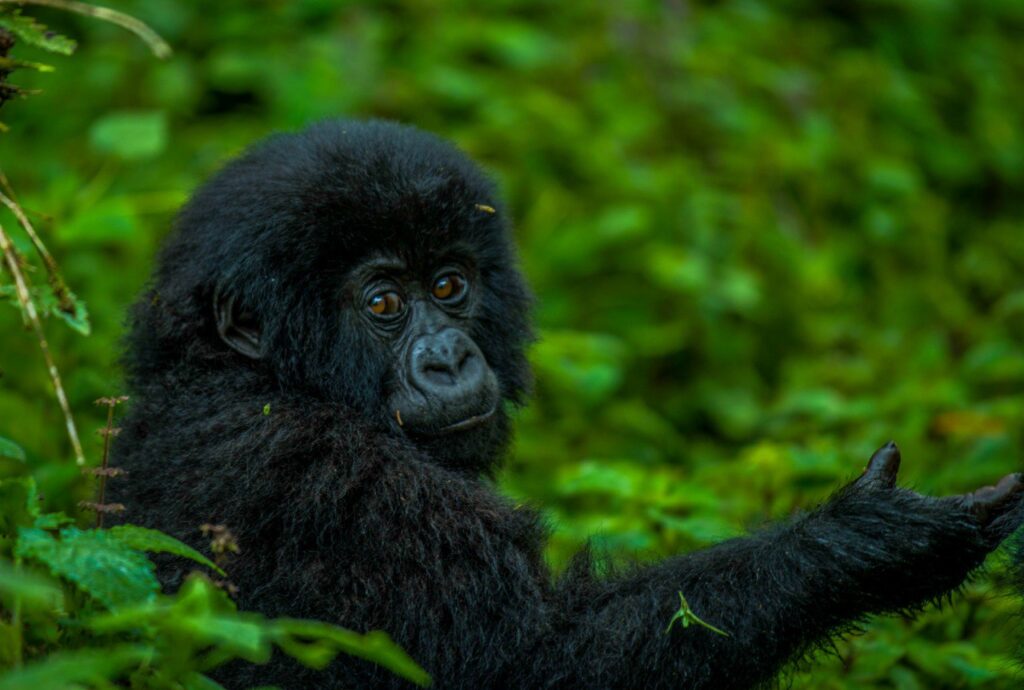 ALL YOU NEED TO KNOW ABOUT GORILLAS
Unlike other activities like game drives, boat cruises, hiking, birding nature walks name it, it is only on Gorilla Trekking or a  Safari with Gorillas, golden monkey and chimpanzee tracking that will require one to purchase a permit or pass before visiting/getting to hit the trails to have an encounter with these wild apes.
Uganda, Rwanda and D.R. Congo host these endangered apes will require every visitors (15 years and above are allowed to track) to buy this card issued by Rwanda Development Board for Rwanda-Volcanoes national park, Uganda Wildlife Authority (UWA) for Uganda's Bwindi Impenetrable and Mgahinga Gorilla National parks and in DR Congo Virunga national park management.
The permit is a single entry pass and it is used by one person for a single day, so if you reserve the permit for a particular date and you don't track, it is deemed invalid. For a Ugandan permit, it shows the region which you are to track from but doesn't allocate the family or group that you will track as the group are given after briefing and according to the fitness of the trackers. Rwanda has established it's self as a luxury destination and its permit goes for 1500$, 400$ for D.R. Congo and 700$ for foreign non-residents and 600$ for foreign residents in Uganda.
Permits can be purchased online or by visiting Uganda Wildlife Authority head offices.
It is hassle free to purchase a safari with Gorilla tracking as your tour operator will acquire the gorilla trekking permit for you. Tour operators are allowed to register with Uganda Wildlife Authority, this gives them an opportunity to have a login in Account whereby they can access the Database for the permits. The company can book for a week before you make the payment and can get the permits after you have made the payment. As a wild game, travelers are not guaranteed the encounter with these gorillas but there is a 99% chance of encounter and there is no case of visitors who have failed to see the gorillas that has been registered. However, the trekking time may vary depending on the location of the Gorillas hence some might be lucky and encounter them after just 30 minutes of trekking, while others might trek up to 8 hours!
For Uganda's case, Uganda Wildlife Authority sells 152 permits daily, this means 152 people officially are on a daily basis in the forests of Bwindi and Mgahinga to track gorillas, and this is in the sectors of Bwindi namely; Ruhija, Rushaga, Nyakagezi, Buhoma and Nkuringo, visiting 19 Gorilla groups. Also 8 habituation permits to 2 groups in Rushaga sector. In the past Uganda has registered a hike in the demand for gorilla permits during the high season of June- September and December to February. This causes competition and sell out for permits hence calling for travelers to book their permits early enough like six months before the travel date.
Travelling during the winter period in Europe or Rainy season March to May and October to November, there is less traffic to the parks and permits can easily be accessed
Trackers are advised to keep a 7 meters distance from the gorillas but this is no rule to the gorillas as they can come close to you. But when they do you can move.
You can take many pictures as you can but you shouldn't use your camera flash lights.
You cannot drink or eat while you are with the gorillas.
Gorillas have a 98% DNA almost human and this puts them at risk of catching human infections and if you have a cold, flu or any other contagious or respiratory disease you cannot track gorillas.
Be of good health mostly free from cold and flu as these can be transmitted to the gorillas since they have a DNA almost similar to that of humans at 98 percent.
One must be above the age of 15 years so if you are planning a gorilla tracking trip, the children below the age of 15 can opt for other activities the parks have to offer.
And of course a traveler with a valid gorilla tracking permit can track the gorillas.
Wear long trousers/pants and long sleeves shirts (for both Males and females)
Carry strong trekking shoes/canvas/hiking boots
Carry rain jackets and coat because it is cold in these tropical rain forest and it can rain any day-So you never know!