About African Rock Safaris
Know About Us
African Rock Safaris LTD is a Ugandan based tour operator company that specialises in independent and group travel packages to East Africa. Our team has a wealth of experience in dealing with East Africa, having sent a large number of travellers from around the world to the region over the years.
Our tour packages are designed for the independent traveller and group travellers but we ensure our clients are well looked after on the ground with personalised meet and greets and a company contact in the country you are travelling through in the event of any issues with your travel arrangements.
Not only does African Rock safaris work hard to organize the best holiday packages, we guarantee making your holiday an unforgettable dream and memorable experience. Our itineraries stem from our personal knowledge, passion for tourism in total and professional experience in the field of tourism in the East African region with attention to eco-tourism and the protection of the environment and cultures.
We organize pocket friendly tours that we can customize with our clients basing on their travel budgets and interests.
Besides that, we arrange private and group safaris especially for volunteers that can be organized all year round, with our friendly safari team and English speaking driver guides and We are members of 
safarigo.com
.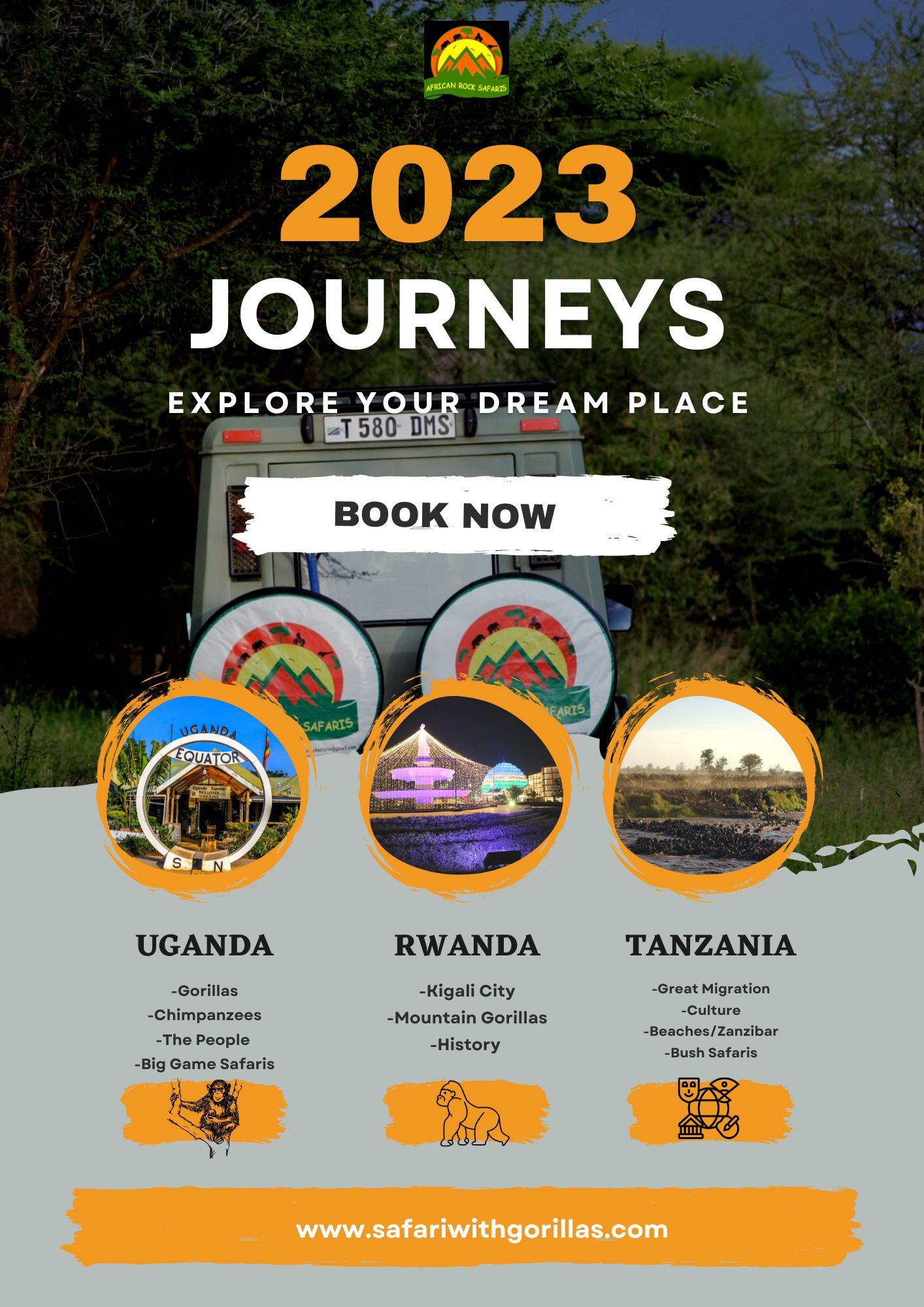 Our Vision
To be the leading safari company in Uganda providing memorable wildlife safaris, coupled with adventure and cultural encounters
Our Motto/Tagline
For diversified experience
Big Game and Nature Safaris
Gorilla trekking Safaris
Chimpanzee tracking safaris
Birding safaris
 African big five safaris/big game safaris
Honey Safaris
 Ssese Island retreats
 Jinja-River Nile retreats
 Zanzibar Island vacations tour
Adventure Safaris
Mountain climbing
 Volcano hiking
Canopy walks
White water rafting on River Nile tour
Volunteer Tourism
Persons with Disabilities projects
Community walks and home stays-"Ultimate African Experience"
Community education
Community health awareness
Agricultural involvement projects
Art and craft support projects
Cultural Safaris
 Batwa pygmy trail
 Karamajong pastoralists of North Eastern Uganda
Bagishu cultural tour
 Buganda trail
Kampala city tour
Ankole cultural tour
 Bunyoro and Batoro cultural tour
Client Satisfaction
To Value our clients' needs and ensure their satisfaction
Quality
To provide quality services to all our clients
Professionalism at all times with the guides and office staff
Sustainability & Conservation
To Promote/Support sustainable tourism and conservation