KYAMBURA GORGE-Valley of Apes
Uganda's most scenic and second-largest conservation Area- Queen Elizabeth National park that is set on the floor of the Albertine rift valley, is a geological shape (gorge) that is filled with lush tropical forest- Kyambura gorge. The gorge is one of the many parts of Queen Elizabeth national park that make it unique and a destination worth considering for a tour in Uganda because of its diversity that includes a population of habituated Chimpanzees.
The forested ravine is 16km long and a kilometer wide and the popular activity here is chimpanzee tracking. Activities in this are not so much developed for tourism compared to the Kasenyi plains, Mweya peninsular, Ishasha sector, or Kazinga Channel, but it is striking and breathtaking when seeing from the viewpoint at Kichawamba. The viewpoint is at an escarpment overlooking the park and Kazinga Channel and this creates a very scenic spot for photography and park view.
The name Kyambura directly translates to "I didn't find it" which was as a result of the river that crosses the gorge. The Kyambura river used to flood and wash away peoples' property and when the water volumes would reduce, the people would walk beside the river in search and when they couldn't find their property they would return saying Kyambura thus the name of the gorge.
The gorge is a buffer zone to Queen Elizabeth National park and it extends to meet the Kyambura game reserve. It boasts wildlife that includes primates like Vervet monkeys, red-tailed monkeys, black and white colobus monkeys, forest hogs, amphibians, reptiles, and birds. During the dry seasons, the rest of the savanna part of the park is always parched, but the gorge is evergreen making it an oasis for the animals.
To do in the gorge includes
Guided nature walks
The gorge can be explored on foot with the company of UWA guides and rangers who will explain the diversity that includes the flora and fauna that you will meet on your way.
Chimpanzee tracking
This is the major activity here and it was usually done by visitors who have a limited time schedule but would want to add chimpanzee and to their itinerary. The activity is a perfect add-on to gorillas and a wildlife safari in Queen Elizabeth national park. There is an estimated number of over 25 habituated in the underground forest that can be tracked daily. A permit can be purchased at 50 USD for the activity which is 150 USD less than tracking at Kibale forest but with fewer chances of seeing them.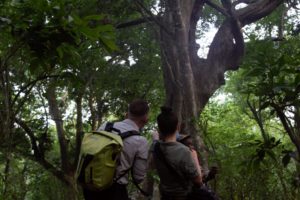 Bird Watching
The gorge hosts a variety of bird species making it a key site for avians while at the park. Notable species include the Verreaux's Eagle Owl, White Winged Warbler, Papyrus Gonolek, African Finfoot, African broadbill, pelicans, and corncrake among others.
For more information or inquiries on Kyambura Gorge or safari to Queen Elizabeth national park contact us.