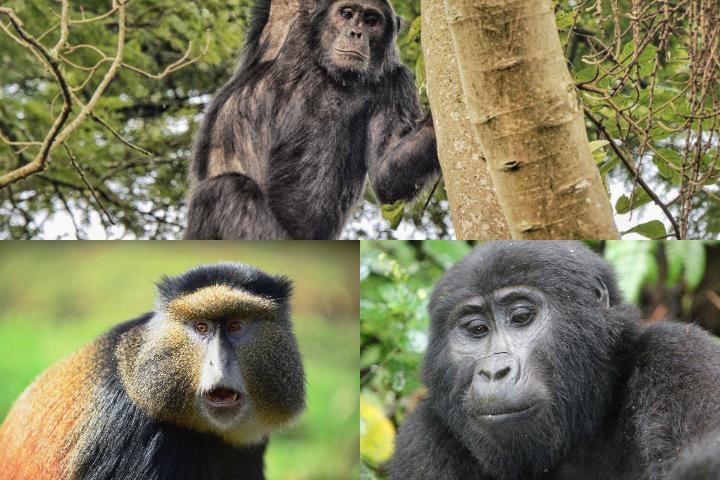 PRIMATE WATCHING IN RWANDA
Rwanda is famous for gorillas and gorilla tracking as the major primates and primate activity, but the country has an array of other primates. If you have interests in East Africa's primates, it is one country that your eyes shouldn't skip. There is a lot to see regarding primate watching in Rwanda. And if you are not in the land of 1000 hills for gorilla tracking you can try an encounter with any of these primates below.
Chimpanzees, Chimpanzee tracking.
Nyungwe Forest and Gishwati Forest house these social primates. Nyungwe Forest Park has over 400 individuals of habituated chimpanzees that are used to human visits. Seeing chimpanzees here is a worthwhile encounter as it involves a hike through the beautiful and one of Africa's old forests.
All year round, visitors can get "Up close and personal" with these chimpanzees. Chimpanzee sightings are never guaranteed but common. Mostly they are heard before they are even seen because their voices reverberate through the dense forest as they call each other.
Tracking chimpanzees start early at 5.30 am with a briefing and takes about an hour or several hours depending on the location of the chimpanzees. You can book your permits online, at the RDB Offices, or via a tour operator like us.
At Volcanoes National park, it is the mountain gorillas that bring most of the numbers. But the striking orange-gold primates- Golden monkeys, contrast with the green forests of the Virunga Volcanoes. They are endemic to these volcanoes (Uganda, Rwanda, and D.R. Congo) and over 5000 individuals are remaining. Also in the Gishwati forest of Rwanda, one can see these amazing monkeys.
Two groups in the Volcanoes national park are habituated for tracking, one in the bamboo forest on Mount Sabinyo and the other on the slopes of Mt. Karisimbi. Visitors can do golden monkey tracking as a standalone activity. For more about golden monkeys and tracking see here.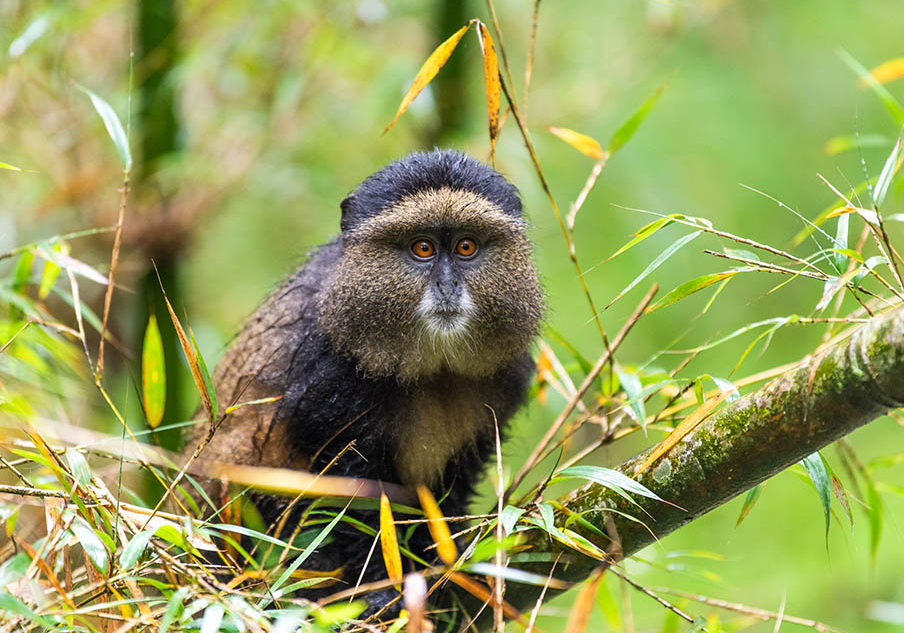 Black and White colobus monkeys.
Nyungwe forest is a super home for primates in Rwanda, and it houses these super attractive monkeys. The black fur of these monkeys strongly contrasts with their white whiskers, tails, and mantle and these make them easily recognized. They lack a thumb. They are referred to as Rwenzori or Guereza colobus monkeys and they have a place in Rwanda's famous primates. An encounter in Nyungwe Forest usually exceeds sightings elsewhere because a habituated group here has over 200 individuals.
The savanna park (Akagera), houses olive baboons and Vervet monkeys that can be seen during game drives and the nocturnals like the small pottos and bush babies that can be seen at night.
Other primates in the country include the Owl-faced monkeys, Dents or Mona monkeys, Blue monkeys, and the L'Hoest monkeys.
Primates are very intelligent and fascinating, watching them socialize, bond, and the playful juveniles is unforgettable. Book your primate safari to Rwanda today.