RWANDA'S DANCE, MUSIC, AND CRAFTS.
Capture the culture, history, and stories.
The arts and crafts play an important role in the traditions and identifying society and people like it are for the people of Rwanda. Performances range from the demonstrations of bravery and excellence to humorous dance styles, lyrics, to artistry based on traditional roots. Rwanda is a country renowned for its dance, music, and crafts. Here we highlight Rwanda's Dance, music, and crafts.
Dance
The finest display of Rwanda's dynamic traditional musical and dance styles performed by the Intore Dance Troupes (Intore is a local dialect word for "The chosen ones"). The dance was found centuries ago and the Intore used to perform it exclusively for the Royal court after getting training by the royal guards and being taught the jumping technique which is a significant part of the dance. The dance is performed wearing grass wigs and clutching spears and this makes it a true spectacle of Rwanda. To be selected as an Intore in the past was a great honor and would come with privileges like education, intensive mortal combat training, and you would have status in the court.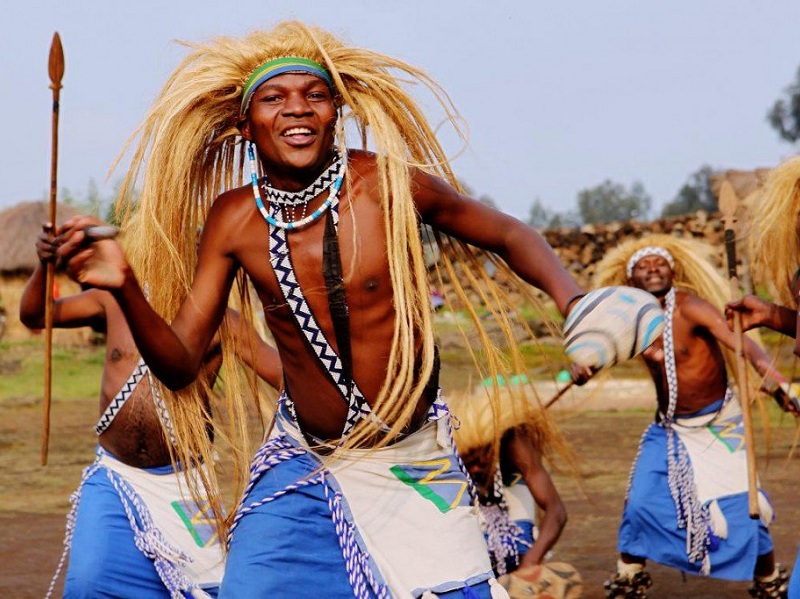 Live dances and performances can be seen at cultural villages, museums, and lodges as welcome or entertainment across the "Land of 1000 hills". In Musanze, just outside Volcanoes National park, the Iby'iwachu cultural village, the National Museum of Rwanda in Huye has regular professional performances, and also at the RDB offices at Kinigi, Volcanoes National park daily dances occur. Also on the yearly occasion of the "Kwita Izina"- Gorilla naming ceremony that happens every 24th September which is also a World Gorilla Day.
Music
Traditional songs are often accompanied by a lulunga- a harp-like instrument with 8 strings. More celebratory dances are backed by a drum orchestra, which typically comprised half a dozen to 9 members who together produce a hypnotic and exciting set of intertwining rhythms that are always joined by melodies from the voices of Rwandan women.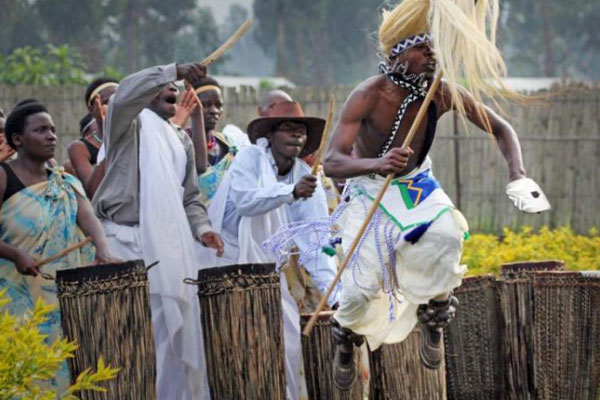 Crafts
Imigongo or cow dung paintings are distinctive Rwandan crafts. These are produced by a local co-operative in the Nyakarambi Village near the border with Tanzania. The paintings are dominated by black, brown, and white whirls and other geometric shapes. They can be seen and bought in craft markets throughout the country.
Basket making and weaving is a traditional art still used today to make dry containers for storing food, cereals, and medicine. These are also known as peace pots and had traditional values such as commemorating weddings or welcome gifts. Some are used to serve food such as millet made meals in restaurants or at homes.
Pottery is one of the oldest forms of art in Rwanda and can still be seen in many towns today. It was a traditional Batwa/pygmies technique. Pots are still widely used for cooking and storing liquids like water and local brew. While in Rwanda, you can opt for a local dish with pot-boiled meat.
The dances and music are a style unique to the country. If you visit Rwanda, don't exit the country without witnessing at least one of the traditional dances and musical performances. These include the Umushagiriro or Umushayayo (Dance of women), Ukurambagiza (Dance of courtship), and Umuganura (Harvest Festival dance). And of course carry some craft with you. This is because all these tell stories, history, traditions of these beautiful people and country. The moves are stunning and captivating seen nowhere else in Africa.
Let us Visit Rwanda together.