BUHANGA ECO PARK- Traditions meet nature.
About 20 minutes from Volcanoes National Park is a small ecological forest-Buhanga Eco-park linked to the Rwandan Monarchy. While the area in Musanze is famous for gorillas at Volcanoes, the Musanze caves, among others. The forest offers a mixture of ecology and culture to a few that visit the place. It holds biological and cultural significance to Rwanda.
The forest is set on an old sacred site that was used for coronation ceremonies of the former kings of Rwanda. From the folklore, Rwanda kings from the first King (Gahinga) to the last one until the country was declared a republic in 1961.
The Eco Park sits on 31 hectares and has a rich ecosystem. To explore the site is a bit demanding because the trails here go through the rough lava stones and lush vegetation of climbing plants terrain. It involves jumping the roots of big trees, bending below climbing plants, etc. but it is amazing and educative. The forest has different sections and each has a different story to tell in regards to the traditions of people. The area has a special tree, the three in one tree, a ditch, a dark cave, and a conference podium.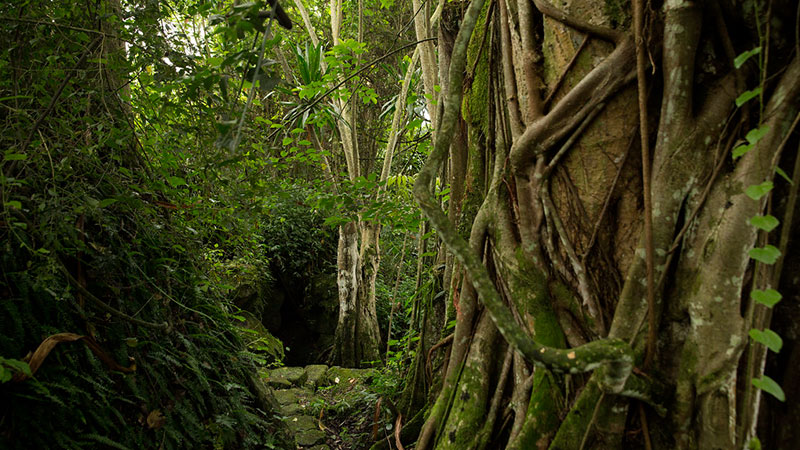 The Ditch
Here, is a spring where the King would be taken for a ritual bath. The King's royal assistants would help to collect herbs that would be added to the water to cleanse it before the King took a bath. It was a procedure part of the coronation process. Lava stones and flower thickets surround the ditch.
The Cave
Surrounded by boulders from the last volcanic eruption, the dark cave was a stop for the King after a direct ride on a royal carriage from Nyanza to the Eco Park. From here he would go for a bath in the ditch before joining the conference podium where a group of elders, clan leaders, and royal sorcerers would give him the Kingship instruments.
At the podium, he would be blessed, prayed for protection and guidance from the Gods, and then announced as King or "Umwami" by the elders that would preside over the ceremony of coronation.
Guests can enjoy the full story with the help of the local guides at the site as they walk to each of the sections. You can also enjoy the Eco life here from birds, plants, and small mammals, and primates. Entrance fees to the park are 70USD for Foreign non-residents, 35USD for Foreign Residents, and 25USD for children.
When Visiting Musanze/Volcanoes National Park, don't miss a visit to Buhanga Sacred forest for an insight into the history of the former Kingdom and the history of Rwanda combine with nature. A small network of lava-cut stone paths, spectacular trees, and ancient tales make the place a hidden gem. If you are fortunate, you can be guided by the grandson of one of the last King's servants.