MOUNTAIN GORILLA TRACKING FOR THE PHYSICALLY UNABLE
Mountain Gorilla tracking in Africa ranks among the absolute highlights of safari/travel in Africa but mountain gorilla tracking for the physically unable seems almost impossible. For most who visit the East African countries of Uganda, Rwanda, and the central African country of D.R. Congo, it is an undisputed encounter "must-see". Fewer than 1100 mountain gorillas exist today, and Uganda is home to half of the remaining population. The rest are shared between Rwanda and D.R. Congo.
In no other African country can one see these primates, and more than 10 species of monkeys and Chimpanzees. The four parks of Bwindi Impenetrable and Mgahinga gorilla national park in Uganda, Virunga National park in D.R. Congo, and Volcanoes national park in Rwanda host these subspecies of the Eastern gorillas-Mountain gorillas.
Just like their name, mountain gorillas survive in altitudes above 2000m in an area covered by dense vegetation and with rough terrain. This makes the activity a difficult take on in terms of physicality. Gorilla tracking is physically demanding and involves hiking and walking for long hours in the dense forests, off-trail, etc. to meet these primates. One must maintain his/her physical fitness before embracing the 3-8 hours trek on these steep slopes.
The trek shouldn't be such a serious physical challenge for adults of whatever age but it can be tough. The toughness varies from luck, how close the gorillas were from the trailheads. From 1400-3000m ASL is enough to knock the breath out of someone who is from a low altitude country. This doesn't mean that you give up on the activity if you are physically unable because of the terrain, age, ability of your body, or any physical issues. It is possible to still encounter these forest giants despite all that.
One of the practicalities that can help a person who is physically unable to meet these gentle giants is Porters. Laura Sannino, born in May 1919, became the oldest person to track gorillas in Bwindi Impenetrable national park in March 2013 then she was 94. She had tried back in 2002 but had failed because of the terrain.
Porters help guests depending on their needs, some help on luggage like backpacks, cameras, give you a push or a pull during your hike, some have now gained knowledge about birds, plants, mammals, and other species at the parks and can identify them. These cost about 15-25 USD a day but most companies including us at African Rock Safaris don't include their services on the safari costs.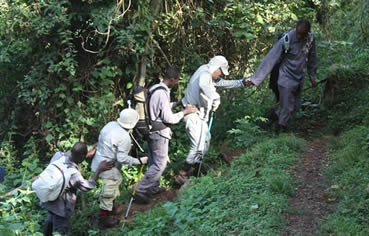 The great deal is the porters who use stretchers to take guests up in the hills and back. One might need about 8 to 12 of these strong men to carry him or her on a stretcher to the location of gorillas. Each of the parks has these provisions for people with either disabilities or physically unable. The stretchers are nick-named the "African helicopters" and men that operate them are from the communities and are supervised by Uganda Wildlife Authority.
The porters charge 300-400 Dollars for a round trip into the park and back. They are trained with basic safety and security procedures. This is one of the ways how communities benefit from tourism at the park. We arrange for mountain gorilla tracking for the physically unable together with the porter groups.
So, you don't need to be worried about age, physical fitness, and the terrain. Contact and inform us in advance so that we can be part of the story you will write about your time with the majestic apes.