HOW TO ENSURE A UNIQUE EAST AFRICAN SAFARI EXPERIENCE
The presence of wildlife in the remote and untrammeled African open savannas, forests, and other wildlife-rich areas, possesses offers a thrilling timeless and offline quality experience while in the region. A holistic package for a safari to East Africa should embrace what makes Africa, from the diverse cultures, landscapes, and contrasts, night skies among others. Here is how to ensure a unique East African Safari experience when you are planning a visit to the region. The write-up will help you know how to experience the unusual.
Include community tours/Culture tours
Usually, around the camps and the parks are organized community groups that can be visited by tourists. Communities are a great part of understanding the destination because they make the destination. They know the history, cultures, and more. Their lifestyle gives a whole picture of the area. So when you are at a destination try to engage communities, visit local markets and walk around.
A few destinations (that are not mountains) in East Africa offer walking safaris, but if you can happen to be in a country that offers them, seize the chance. Walks are far more involving than the game drive experience. They (walks) make any wildlife encounter to be an outstanding one. They allow you to listen to any sounds well, feel the texture, learn about the small details missed while in vehicles, like animal waste, decomposing kills, insects and small life, and droppings.
East Africa may not be up as Asia or France when it comes to world cuisines, but if you are a foodie or not, you can try out the local dishes in the region. The Swahili coast and Zanzibar offer cuisines of cloves and cinnamon-infused pilau, try out the spice shops, try street food like grilled meat, rolled eggs with chapatti, Luwombo in Buganda region (Uganda), among others.
Most of the time, game drives will take place between sunrise and sunset but there are options for night drives. When the sun falls, you can explore the bush in the dark with the guidance of an armed ranger and spotlights. Nights offer sightings of nocturnals and animals you can't easily see during the day like Bushbabies, porcupines, honey badgers, pangolins, or have a chance to encounter predators taking down prey at night.
Jump on a hot air balloon
From only male-led expeditions to women-led safaris, Africa safaris are setting a trend and are no longer restricted to safari vehicles. Floating above plains in a hot air balloon is no match to any other way of viewing a game in the vast savannas of East Africa. Soar with the birds of the sky and have a bird's eye view of wildlife from heights and conclude it with a bush meal/ breakfast. So, if you are visiting the Serengeti or Masai Mara, or Murchison Falls national park (Uganda), you can opt for a balloon safari.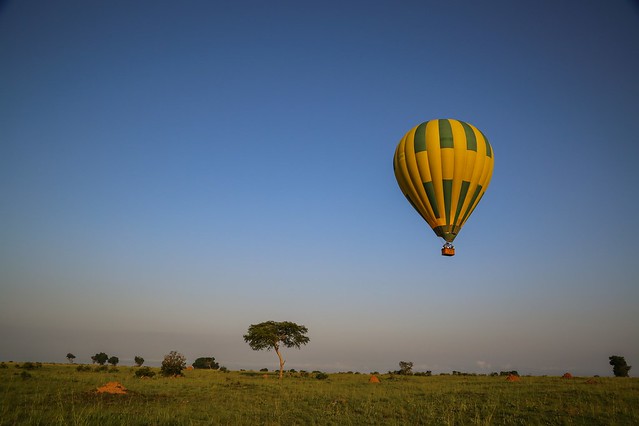 Safari experiences are always different for each traveler even when you do the same routing, but the selection of what you do and how you engage in everything on the safari to a larger extent influences how unique your experience can be.
One thing to have in mind as a traveler is not to obsess over the experiences. Yes, we know you have expectations but there is more to an experience than what you always expect. Always enjoy every sighting, every activity and you can also challenge yourself to focus more on what is not usually given priority say focus on the small five, ugly five than the Big 5. Of course, a lion or leopard sighting is amazing but this way you won't be disappointed.
Contact us for journeys through East Africa