WHERE TO SEE THE SHOEBILL IN UGANDA
WHERE TO SEE THE SHOEBILL IN UGANDA
Uganda is a famous birding destination in Africa with various spots for outdoor activity. It is home to over 1080 species of birds that include the Shoebill also scientifically known as "Balaeniceps rex" which is a large stork-like bird. The bird is named after it a head shape that looks like a shoe. It is a prehistoric bird and one of the most sought-after birds for birders that flock to destination Uganda. These birds thrive in the lush wetlands and marshy areas around Lake Victoria and a few around the country where they can find their prey- mostly lungfish which they extract from the bottom mud of these wetlands. Because of this, they are facing killing by local fishermen as they are their competitors but efforts are being made to stop this by involving community members in birding activities and training them in bird watching to work as site guides and trackers. Do you know where to see the shoebill in Uganda?
These birds are solitary in behavior and this crosses to their breeding affecting their numbers. Unlike herons, cormorants, pelicans, and some storks that breed in colonies, their nests are always far away from each other. Mature individuals are always greyish and juveniles are brownish. They are noted for their slow movement and can stay for long periods at one spot ambushing prey. They are considered to be one of the most desirable birds in the country by birders because of the time it gives for photography and watching it fish. For lovers of bird watching tours to Africa mainly to the pearl of Africa gives you a variety of spots to watch this elusive bird.
Mabamba wetland in the west ends of Entebbe on Lake Victoria is the best and most convenient place one can never go wrong while in search of this bird. Entering the wetlands while cruising on the water trails on a motorized canoe will really hike your chances of seeing the shoebill as it stalks its prey like the lungfish, toads, and frogs.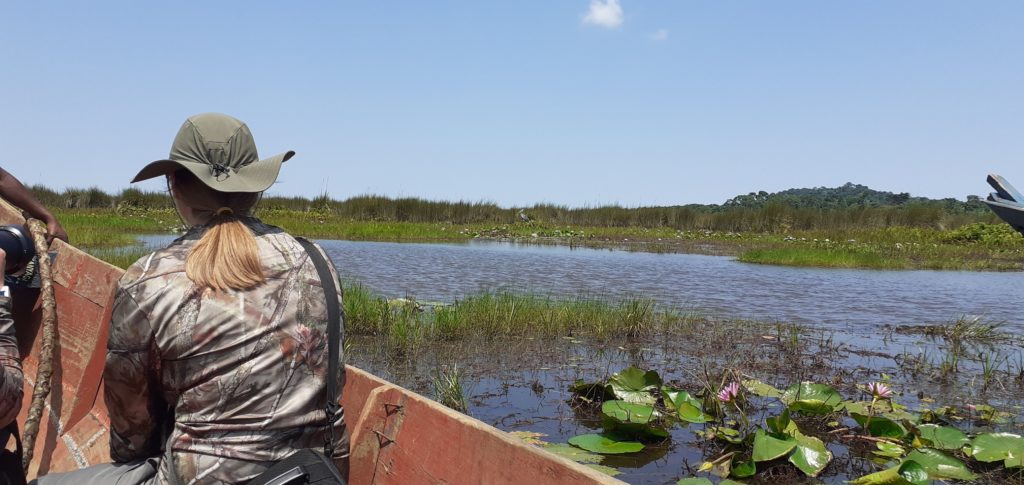 Also, a trip to Murchison Falls national park gets you to another unique spot to encounter this magnificent bird. A boat trip to the delta gives the few people who opt for it a chance to sight this bird over the others that opt for a cruise to the bottom of the falls.
Opting for a Big 5 safari with a stop at Ziwa Rhino Sanctuary offers a game walk to do rhino tracking but then for birders, there is an option for a boat trip in search of water birds and the Shoebill and the Papyrus Gonolek are the hottest items most birders want to tick on their checklists upon visiting this sanctuary.
Uganda Wildlife Education Centre (UWEC) in Entebbe gives a magical experience with this bird where you can opt for a "behind the scenes" experience and you have the chance to encounter this bird in close contact. Then down below the Rwenzori Mountains in the Semliki Valley, the Birders Haven- Semliki national park doesn't reward visitors with only a mixture of central African biome species but also has spots where this bird can be sighted. A well-trained ranger will lead you through the boggy forest to the wetland part of the park in the search of this bird.
However, this bird is not only Uganda's special. The country boasts about 1080 bird species and among them is Uganda's only endemic Fox's weaver.
So you can explore some of these birding sites in this birders paradise for a memorable birding adventure to encounter most of the Albertine endemics and specials. Or if you are visiting Kampala, you can opt for a day trip to Mabamba, Makanaga, or Lutembe Wetlands for your Shoebill encounter.
Contact us for a one-day shoebill watching tour or a day's trip for birds of Uganda.